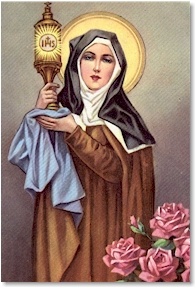 It's after midnight, so now the feast day of one of our favorite saints: Clare of Assisi. Besides being patroness of television, she's also the namesake of one our favorite liqueurs. (Yes, also a cool saint in her own right.)


Years ago, Izzy and a buddy took the buddy's last weekend in Texas and headed down to Mexico to "import" several bottles of Santa Clara, which we couldn't get in Texas at the time. It's more available now, and we tend to drink less of it -- lost some of the allure?



We'll lift a couple glasses later today...or now, as a nightcap?